Elevator Traction Sheave is the rope sheave on the elevator traction machine, also known as traction rope sheave or drive rope sheave. It is a device for elevator to transfer traction power, which is transmitted by friction between traction wire rope and traction sheave groove. The shape of traction sheave groove is mostly semicircular groove, semicircular groove with cut , V-shaped groove.
Now semicircular groove with cut is widely used.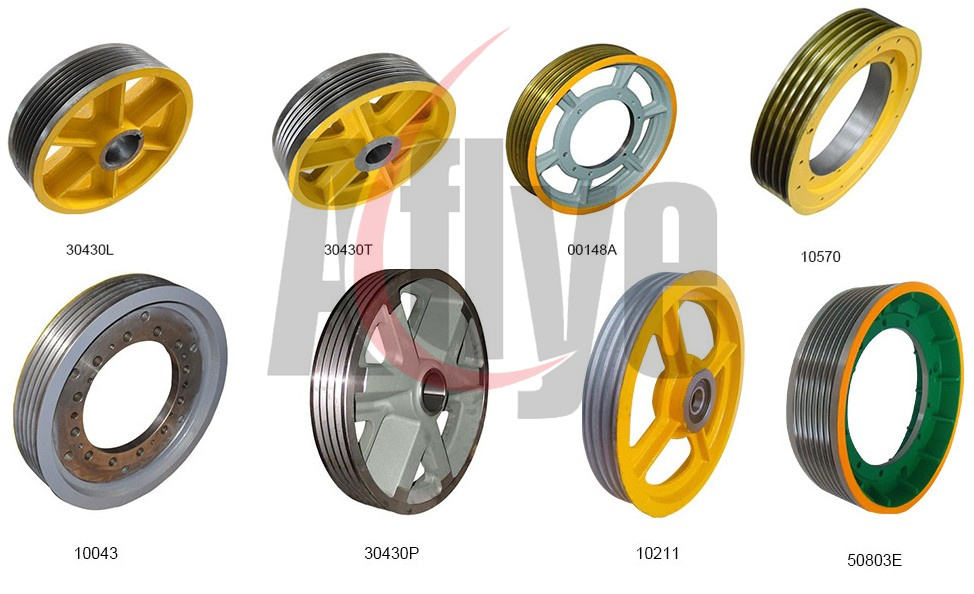 Production and structure requirements for elevator traction sheave
① Since bearing all the loads of the elevator car, load capacity, counterweight and other devices, the traction sheave must perform satisfactorily in high strength, good toughness, wear resistance and impact resistance.
② Diameter of traction sheave: The diameter of traction sheave shall be 40 times larger than the wire rope. In practice, generally 45~55 times, sometimes more than 60 times.
From an objective point of view, the wear of elevator traction sheave grooves is basically inevitable. But the main wear is usually caused by using unqualified material quality and uneven stress of wire rope. The traction sheave must be checked regularly to decrease the accident rate.
Please follow us, we are committed to sharing you more elevator and escalator knowledge.
________________________________
TEL: 86-20-34379130
WHATSAPP: +8618126870835
EMAIL: AFLYGZ@GMAIL.COM
WEBSITE: HTTPS://WWW.AFLYELEVATORS.COM
________________________________
A-FLY ALL RIGHTS RESERVED
Come A-FLY, Get All Your Right Parts
Professional global elevator & escalator spare parts supplier
Since 1999, more than 20 years experience in elevator & escalator field