The GeN2 series elevators integrate creative polyurethane flat composite steel strip technology and modern aesthetic concepts, providing customers with a new experience and enhancing the noble taste of buildings.
Main features of the products:
2. PM Machine permanent magnet gearless traction machine
GEN2 Elevator PCB Board List:
FAA25100K1 Display PCB Board (Discontinued, Can Be Replaced By FAA25100AA2 )
GBA26800LB20 GBA26800LB1 GBA26800LB2 BCB Battery Control Board no ARO for Brake Release
FDA23600V1 LCD Display Board
GDA26800KA2 GCA26800KA2 GDA610AAH1 TCBC Main Board
GAA26800KJ1 GBA26800KJ1 LWB_II Weighing Board
GAA26800KM1/GBA26800KM10 SPBC II Inspection Board
GBA26810A2    WWPDB   Drive Board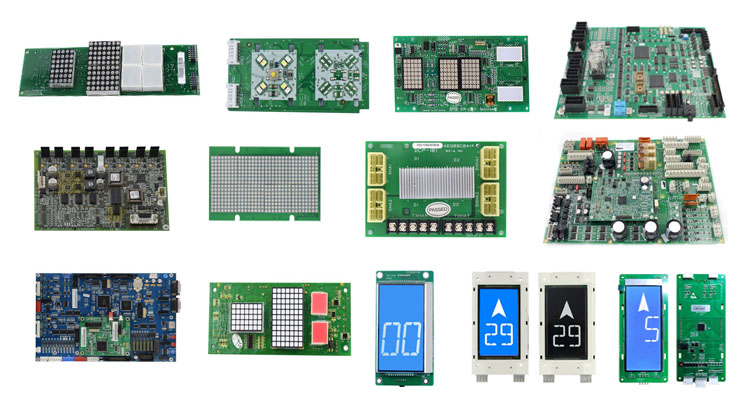 GDA26800KA1 GCA26800KA1 TCBC PCB board
FAA25402AF1 FAA25402AF FAA25402AF4 FBA610CD1 Weighing Device Board
GAA26800BA2 GBA26800BA2 GCA26800BA2 GFA26800BA2 Control Cabinet PCB Board
(GBA26800BA2 can be used to replace GEA26800BA4)
GCA26800MD2 GCA26800MD20 GECB_II PCB Board (Used with ABA26800AVP6 Board)
GCA26800KV440, GCA26800KV70 MCB3X PCB Board
AA25005G1 GAA610ZC1 Key Switch Box HOB PCB Board / Landing Push Button Board
GAA24270AB2 Load Weighing PCB Board (LWB)
GAA26800KF1 GCA26800KF1 MCB-III Board
SPB-GCA26800BB1/GI GCA26800BB2 Brake PCB Board
GCA26800KX1 GAA26800KX1 GBA26800KX1 SPBC-III GI Board
GBA26810A1 GBA26810A2 WWPDB Driver Frequency Inverter Board
GAA26810C1 GAA26810C2 WWPB_2 Driver Mother Board
GAA26800BG1 BRB1 BRE Motherboard
FAA25402AJ1 Car Top Junction Box PCB Board
ABA26800AVP6 ABA26800AVP3 DBA26800EE1 GECB-V2 APIO Motherboard
GAA26800NB1 SPBC-II Motherboard
GBA26800KB401 EEV26800KB401 SPBC Motherboard
GAA26800KB1 Roomless GEN2 SPBC Board (GEN II SPBC Board)
GCA26800KV3 GCA26800KV7 OVF20CR Inverter Board
GBA26800KB1 GAA26800KB1 GBA610AAJ1 SPBC PCB Board
GBA26800BB2 GBA26800BB1 Rescue SPB Board
ABA26800TH1 E311 E411 Board
ABA26800APS1 Speech Board
FAA23600AB1 NAA23600B   LOP HOP Arrival Gong Display Board with Buzzer (NAA23600B can be replaced FAA23600AB1)
Please follow us, we are committed to sharing you more elevator and escalator knowledge.
____________________________________
TEL: 86-20-89024017/34379130
WHATSAPP: +8618126870835
EMAIL: AFLYGZ@GMAIL.COM
WEBSITE: https://www.aflyelevators.com/
______________________________________
A-FLY ALL RIGHTS RESERVED
Come A-FLY, Get All Your Right Parts
Professional global elevator & escalator spare parts supplier
Since 1999, more than 20 years experience in elevator & escalator field