The elevator oil cup is an automatic lubricating device installed on the guide shoe to lubricate the guide rail and guide shoe. The installation of oil cup shall be carried out after cleaning the elevator hoistway. Usually, it is divided into counterweight oil cup and cabin oil cup. In appearance, there are round or square shape oil cup.
The installation requirements for oil cup as follows:
The oil cup should be installed on the guide shoe. After installation, it should be divided into the left and right side of the guide rail and the the oil cup felt should be close to the guide rail.Also, there should be a gap between the front side and the guide rail top surface.
A-FLY, a professional elevator and escalator spare parts supplier and manufacturer. We carry out various types of elevator oil cups and support customization.All our products are not only choosing raw materials prudently, but also controlling technical parameters strictly and paying attention to every minor detail.Customers in here can enjoy free maintenance or replacement for quality problems within the warranty period.We have a professional pre-sales and after-sales service team to bring you a comfortable one-stop purchasing experience.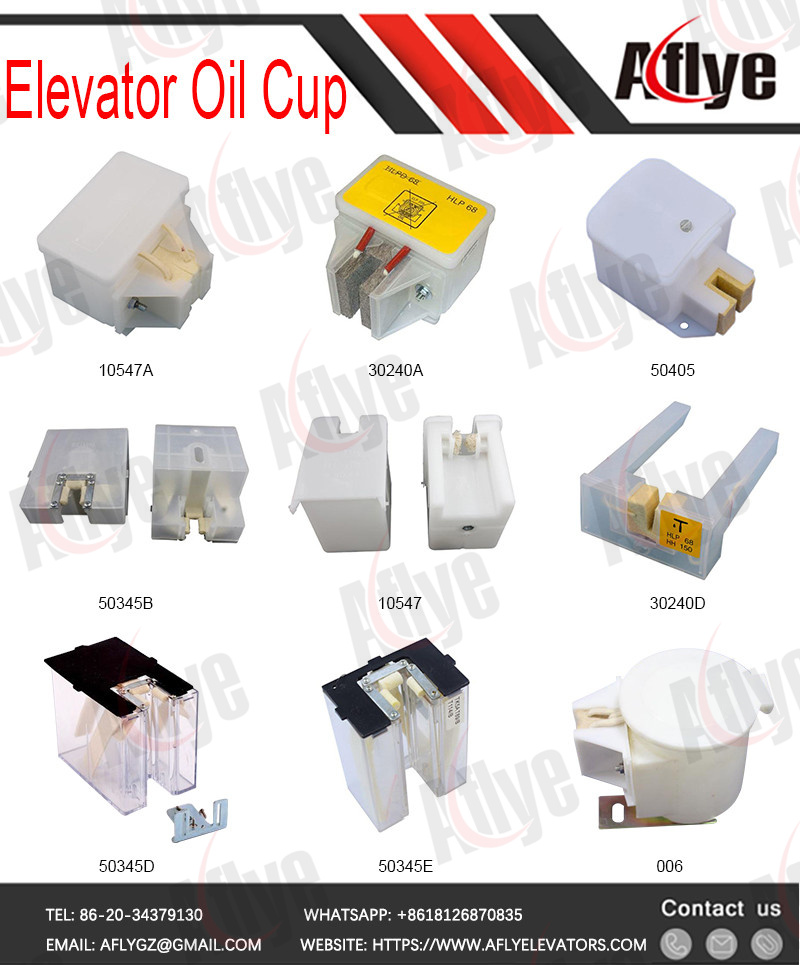 Commonly purchasing oil cup model for your information:
KM51079340V002 KM51034185V001 Elevator Square Oil Cup/Oil Can
KM86375G16U KM86375G16 KM86375G09 Elevator Guide Rail Oiler /Oil Cup Lubricator
RL-83 YA038B139G02 Elevator Oil Cup
KM947605 Square universal type elevator oil cup 103*100*8
RL-300 YA188B264G01 Elevator Square Oil Cup
RL-250 182*168*53 machine roomless elevator Square Oil Cup
FAA435C3  elevator Square Oil Cup 115*80*80
100524 elevator Square Oil Can 104*105*81
HLP68  HH150 H50 Elevator Guide Rail Counterweight Auxiliary Rail Oil Cup
J100 J110 J112 J140 J150 J160 Elevator Square/Round Oil Lubricator/Oil Cup/Oil Can
XAA349C1 elevator  Square Oil Can 104*101*83
FAA508C1 J120 Oil Elevator Oil Collector
KM746041H02 KM746041H03 Elevator Oil Clector
TKB16  TB10 TB16 Oil Elevator Oil Cup
DS-T04 Elevator Small square Oil Cup
YB-10 Elevator Oil Box Collection 105*105*135MM
Please follow us, we are committed to sharing you more elevator and escalator knowledge.
________________________________
TEL: 86-20-34379130
WHATSAPP: +8618126870835
EMAIL: AFLYGZ@GMAIL.COM
WEBSITE: HTTPS://WWW.AFLYELEVATORS.COM
________________________________