Elevator guide shoe is a sliding part between elevator guide rail and the car. It can fix the car or counterweight on the guide rail to make them run up and down and prevent skewing or deflecting during operation.
For each elevator, usually there are 8 pieces guide shoes installed on the top or bottom of the car and the counterweight.
The guide shoe is composed of guide shoe liner, base and shock-absorbing rubber. it can be divided into rolling guide shoe and sliding guide shoe.
Rolling guide shoes are generally used for elevators with speed ≥ 2m/s.
Sliding guide shoes are divided into fixed sliding guide shoes and elastic sliding guide shoes, which are suitable for elevators with speed ≤ 2.5m/s.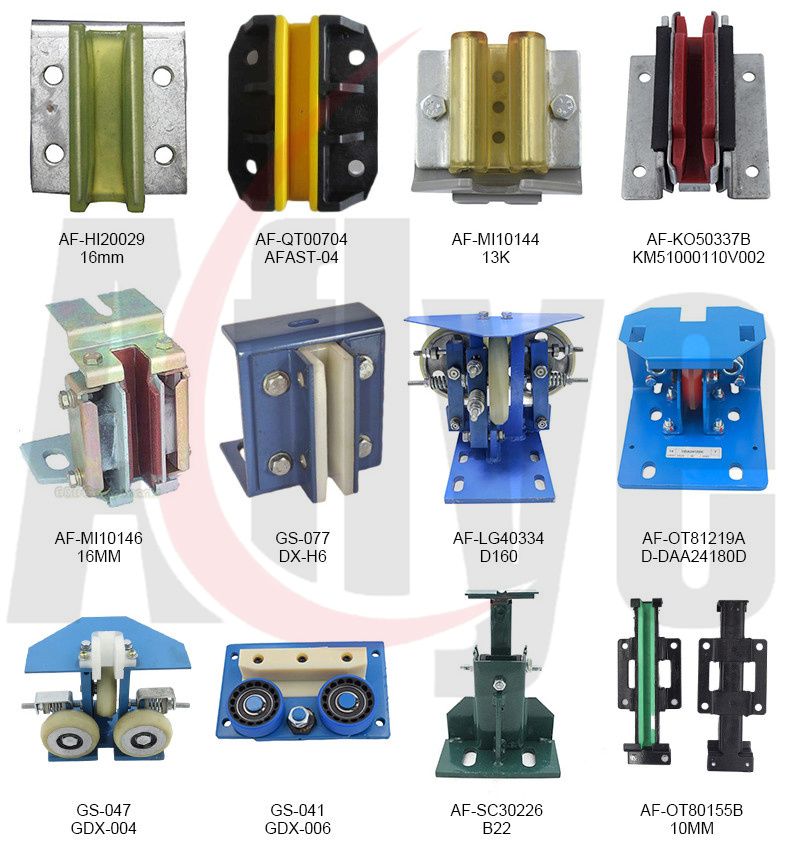 Guide shoe installation must be meet the following requirements:
When the up and down guide shoes have been installed in the right position,they should be on the same vertical line. No skewing or twisting is allowed. Ensuring them are in a line with the center of the safety jaw.

When the guide shoes are installed, theclearance between the two sides should be consistent as well as the clearance between the guide shoe inner and the rail top should be within O. 5 ~ 2 mm
Please follow us, we are committed to sharing you more elevator and escalator knowledge.
A-FLY ALL RIGHTS RESERVED
Come A-FLY, Get All Your Right Parts
Professional global elevator & escalator spare parts supplier
Since 1999, more than 20 years experience in elevator & escalator field