Elevator electronic boards are essential components of elevator control systems. They are responsible for controlling various components of an elevator and ensuring safe and efficient operation.
Are you looking for a reliable and high-quality elevator electronic PCB board? Look no further than our products. We offer a range of elevator electronic boards that are designed to meet the highest standards of quality and reliability, including elevator main board, power supply board, inverter board,COP HOP LOP display board or elevator PCB Board Replacements,etc…Our products are manufactured using the latest technology and are guaranteed to provide safe and efficient operation for your elevators.
Our elevator electronic boards come with a range of advanced features, including emergency alarms, automatic rescue devices, and real-time monitoring of elevator operations. This ensures that passengers are safe and secure at all times. Additionally, our electronic boards optimize elevator operations by analyzing passenger traffic, minimizing waiting times, and reducing energy consumption. This not only improves the passenger experience but also saves costs for building owners.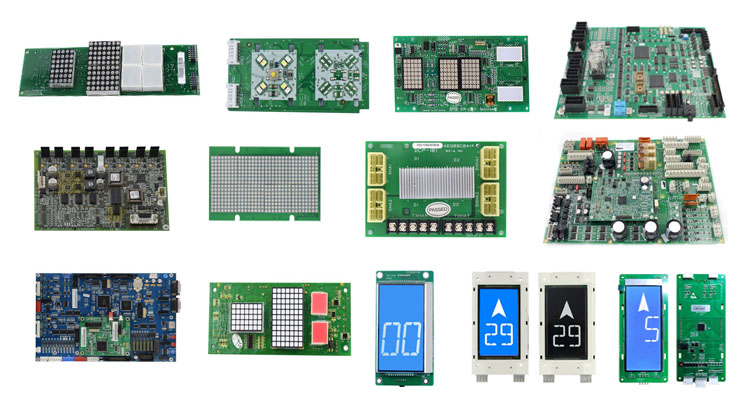 We offer versatile specifications for our elevator electronic boards, providing customization options to meet your specific needs. Our products are designed to be easy to install and maintain, reducing downtime and maintenance costs. We also offer retrofitting services to upgrade older elevator systems without the need for costly replacements.
Our elevator electronic boards are made of high-quality materials and are designed to withstand prolonged use and heavy loads. They are compatible with a wide range of elevator systems, ensuring they are a versatile solution for elevator maintenance and repair.
We take pride in our ample stock and prompt delivery, ensuring that our customers can get the products they need in a timely manner. Our products are always in stock, so you can be sure that you will receive your order as quickly as possible.
In conclusion, if you're in need of high-quality elevator electronic boards, choose our products. Our products are designed to meet the highest standards of quality and reliability, with versatile specifications and ample stock for prompt delivery. Contact us today to learn more about our products and how they can help improve the safety and efficiency of your elevators.